Journal of Fiber Science and Technology (JFST)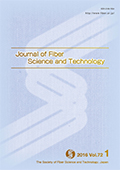 JFST is an open access academic journal with some articles written in Japanese.  All of you have free access to JFST from here.
Manuscripts must be submitted through the web submission system. Please consult Guidelines for Authors before beginning your submission.
Editorial Board of JFST

Editor in Chief: K. Katsuraya (Wayo Women Univ.)
Vice Editor: M. Shioya (Tokyo Inst. Tech.)
Editor T.Aoki (Kyoto Inst. Tech.), T. Uchida (Okayama Univ.), H. Kanai (Shinshu Univ.), H. Kamitakahara (Kyoto Univ.),
Y. Kawahara (Gunma Univ.), T. Kitaoka (Kyushu Univ.), A. Kubono (Shizuoka Univ.), C. Sawatari (Shizuoka Univ.),
A. Takeno (Gifu Univ.), H. Cho (Pusan Nat. Univ., Korea), M. Tosaka (Kyoto Univ.), M. Hanada (Kobe Shoin Women's Univ.),
K. Hisada (Fukui Univ.), Y. Horiba (Shinshu Univ.), K. Yamamoto (Nagoya Inst. Tech)
Fields covered by JFST
All Sciences and Technologies Related to Fibers
1. Creation of Fibers and Polymer Materials
Synthesis of New Materials, Material Conversion and Chemical Modification,
Inorganic Materials, Inorganic Nanofibers, Organic-Inorganic Composites Materials
2. Functions of Fibers and Polymer Materials
Optics and Photonics, Electronics, Ionics, Functional Membranes, Adhesion and Interface/Surface Functions, Heat Resistance, Flame Retardancy
3. Physics of Fibers and Polymers
Crystalline, Amorphous and Higher-Order Structures, Structure and Properties of Fibers and Films, Structure and Properties of Composites, Specialty Fibers, Methodologies of Structural Analyses for Fibers and Polymer Solids
4. Molding, Processing, Spinning and Textile Machinery
Nanofibers, Fibers and Films, Nonwoven Fabrics and Porous Materials, Composites,
3D Printer
5. Dyeing, Functional Processing, Cleaning
Dyeing, Functional Processing, Cleaning
6. Textile Science
Spinning and Weaving, Textiles, Sensitivity (Kansei) Measurement and Evaluation, Smart Textiles, Geotextiles
7. Fashion, Apparel, Consumer Science
Fashion, Apparel, Apparel Engineering and Sewing, Consumer Science, Clothing Hygiene and Management
8. Natural Fibers and Biomacromolecules
Natural Fibers, Natural Materials, Biodegradable Materials, Biomacromolecules, Biomass Materials
Cellulose Nanofiber, Paper and Pulp
9. Soft Materials
Liquid Crystals, Colloid/Latex, Gels and Elastomers, Polymer Blends, Microphase Separation and Self-Assembly, Other Soft Materials
10. Biomedical Materials
Biomaterials, Biomedical Polymers, Biopolymers, Biobased Materials, Structure and Function of Biomolecules
Sen'i Gakkaishi (Journal of SFSTJ, published monthly)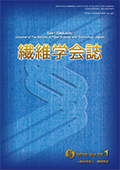 Sen'i Gakkaishi is written in Japanese and includes reviews, reports, and news.
Members can access to Sen'i Gakkaishi from here.
Editorial Board of Sen'i Gakkaishi
Editor in Chief: H. Murase ( Kyoritsu Women's Univ.)
Vice Editor: K. Katsuraya (Wayo Women Univ.), J. Deguchi (Asahi Kasei)
Editor A. Ueno (KB Seren), T. Ohe(ORIST), N. Oshima (JTFS), H. Kano (Toray), K. Kim (Shinshu Univ.), I. Kim (Shinshu Univ.),
K. Sakakibara (AIST), K. Sawada (Osaka Seikei College), C. Zhu (Shinshu Univ.), K. Sugiura(KITC), M. Takasaki (Kyoto Inst. Tech.),
Y. Takemoto (Mukogawa Women's Univ.), T. Taninaka (Toyobo), A. Tamura (Teijin), K. Nishida (Kyoto Univ.),
T. Nishimura (Oji Holdings), K. Hirogaki (Fukui Univ.), Y. Murakami (Shinshu Univ.), H. Yamamoto (Mitsubishi Chemical),
K. Yoshida (Unitika Trading), Advisor H. Urakawa (Kyoto Inst. Tech.), A. Tsuchida (Gifu Univ., Prof. Em.), Y. Matsushita